Nieuws
Daniel Ghita: 'GLORY 8-man toernooi was een grap'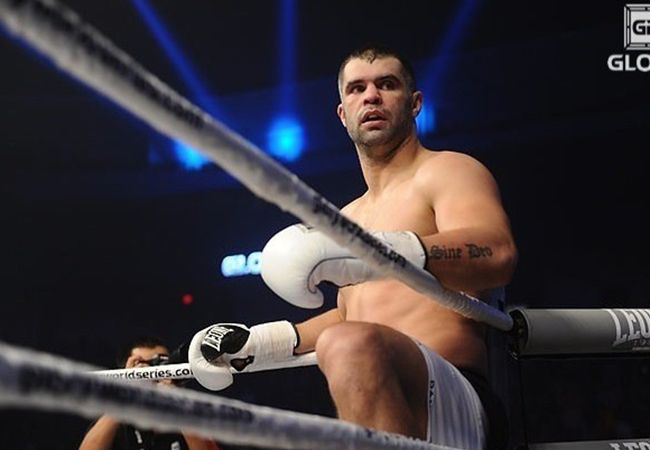 Hij vocht geruime tijd bij GLORY en andere grote kickboks organisaties maar verdween tijdelijk uit beeld, Daniel Ghita.
In de Nederland kickboks wereld is Ghita geen onbekende en zeker niet onbesproken. Kickboks organisatie Enfusion zette hem op de zwarte lijst, een zweem van controverse hing om de Roemeen heen. Wij hadden een exclusief interview, waarin hij openhartig sprak.
Het verzoek van Ghita was om het interview in het Engels te publiceren. Waarin hij verteld over zijn vete met mede Roemeense vechters, GLORY en meer.....
What are you up to these days? Politics or are you preparing for a fight
again?
DG. In 2015-2016 I made many campaigns,
against deforestation in Romania. I begged VIP people, so called sports people,
to come on the streets: nobody came to support the actions, to safe the Woods!
Stop the deforestation's in Romania, was not important. Not even Benny, The
one Hand punching Bag or Catalin Morosanu! They preferred to stay on TV shows,
and playing the charity boys from TV, being paid. Just, if camera is on, they
are very worried and love their country! Not if the country needs them to do
something for nature, for the benefit of their country.
I said to muself let's step into in politics, to stop
deforestation in Romania. I did not wanted to go to big political party's
socials and liberals, I had offers to do so. I choose a small political
party, under 5 %. I went into politics in 2016, I was desperate to stop
illegal deforestation in Romania. The Austrian company Schweigofer destroys
many virgin woods in Romania. They destroyed all the woods in Romania for money and
profit, and nobody stopped them. I quite politics in 2016, and I'm not in the political game anymore.
I'm a co founder of ARMIS (Romania Mandra Intre Stele).
A association that does good things for our
country, for all Romanian's outside our country and in the country. We are there
to help, in a diplomatic way. Benny and Catalin Morosanu are over night
big patriots! If camera is on they are patriots for the image, for money
on TV, Not for the poor people. I hate this fake patriots and I say it in public.
To put a Romanian flag after the fight, it doesn't make you a patriot. I was the
first who did that; the rest copied what I did. In their minds tis is good PR!
We have deeply respect for your political work. What is the status
right now?
DG. As i said. I' m not in the politics anymore. In
Romania i was for a period of 10 years. In the name of justice, many people were
put innocent in jail. Judges, business people. This was the era of DNA
(anticorruption cell) and Romanian secret service SRI made ilegal
protocols with DNA And the Court, what made that innocent people
died in jail, or their lives and carriers were destroyed. This was 10 years of fear politics.

Corruption you have it in Germany, Holland,
Belgium, France, USA, everywhere, not just in Romania. Imagine that a judge can
be forced to put you in the jail from one day to another, without any prove!
All the prosecutors of DNA are now investigated by committing these horrible
crimes against justice in Romania. Nobody talks about it, I do! Not just
Romania is corrupt!
In all the countries in the World exists
corruption. In Romania They used " fighting against corruption " to put
innocent people in jail, destroy Romanian business, those other foreign
companies. Creating fear and having a country of prosecutors. Does anybody
talks about VW corruption in Germany? Nobody. Romania is not more corrupt as
Holland or Germany.
Right now there is something going on Social Media between Catalin
Moresano and you. Why would you like to fight him?
DG. All the years I lost fights, he started
mocking me in public and talking behind my back about me. I said, ignore this
non-talented boy, he needs attention and his this frustration about my
performance. But the last time, he calls himself on media " K1 champ ", and
young people think that he is a real champ of K1, but he is and was never a K1
champ! He is all day, for his own good on media, in penibile shows. He gets
paid money for appearing in all these shows.
Like, I m in the jungle, I'm dancing for you,
I am cooking with my mama, etc. Really embarrassing for me as a real fighter. I
refused all shows, even my offers were bigger then his offers, because I m a
real fighter, not a pussycat what you can buy with money to see on TV? The
young generations have to see that this is not a model for the next generation.
We need to have the respect for ourselves and stop doing everything for money
and attention.
I was started to be ashamed to be called " K1
Champ "! Colleagues over the world were making jokes, of what happens in
Romania in kickboxing. I have a real Career and people over the world know The
Savage Samurai, alias Daniel Ghita. I got famous with sport and results, not
with show and fake fights. A kind of Romanian wresting organization was started by Morosanu.
I said, let's step in the ring, I wanted to show people who is the best!
To show what is kickboxing and what is " K1 TV
champ ". He started to put other fighters to insulte me public and played dirty
games, with lies. I just said that he should stop to lie to people. A fighter
fights! He is the only one who does embarising shows for money, not me! He was
disturbed that I told the truth. Kickboxing is kickboxing, show is show!
No show could buy me: never, ever!
You wrote already that Morosanu accepted to fight against you. Do you
have any idea if the fights really will take place and when yes, when and
where?
DG. Morosanu is now on a show for money. Like
a Farm, it is a shame what he does there. He will do everything for money, not important
what or how. Very cheap and low class.
Glad now the fans saw it! All I said is now
confirmed by all fans. I do not think this fight will be ever take place!

He needs money from dirty shows on TV, not a
from real fights. He organize fights with people who aren't real kick boxers,
to be a champ, for money. He sells the tickets and people thinks that these fights
are real. It's show for money. I will fight that! At one time he said he fights
with " The giant of Maroc", nobody found hem. After that was a man form
Belgium, and the last was Kruk. 3 fighters in two months! The last one he was
not even a kick boxer! This is show, not kickboxing!
What do you think of Benjamin Adegbuyi's loss to Jamal Ben Saddik in
GLORY 62?
DG: that was the worst
tournament in heavy weight in kickboxing what I ever saw, in my entire
life! Jamal won with a broken hand by TKO! To sit there and get beaten by Jamal
with one broken hand, says all about the kick boxer! Now, Benny plays
that he is the best Romanian fighter! Come one! You got beaten with one hand!
His frustration that he doesn't reach my performance an level. In It's Showtime he would
not make a chance.
Many people told me that he is talking bad
about me in Holland. Why? Because his jealously, that he cannot reach my
performance? Gatekeeper of Rico. Dutch people love real kickboxing, not commercial
stuff. This is not a character of a gentleman, in my opinion. I used to ignore,
now I talk public about it. They do not like it, because many have fake image,
and I show the real face, the reality.
Would you consider fighting for GLORY again?
Why not? But honestly with who? You saw the last tournament? I was
ashamed to watch it! I couldn't believe that was heavyweight! This was a joke
and real kick boxers know.
If you will ever fight in an 8-man tournament, who would you like to
fight?
Saki, Badr Hari and Rico, Benny Adegbuy (one punching bag or gatekeeper,
the wolf without teeth), are my names for Benny!